GÅ TILBAGE TIL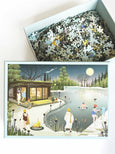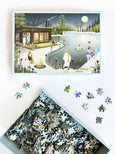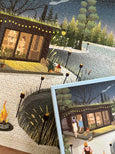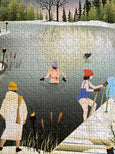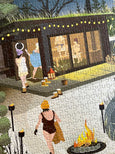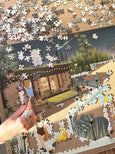 SAUNA BY THE LAKE - Jigsaw Puzzle - 1000 pieces
Deep breaths and step by step into the cold water, your heart rate rises and your instincts kick in, but once you've overcome this, the heat spreads through your body and endorphins are released. The tingling you feel when you sit in the sauna again and feel how your body works with the quick temperature changes. It's a workout for the inner organs and, not to mention, the mind. But be careful, you'll become addicted to that feeling.
The motif is a fusion of the posters "Sauna" which can be found here, and "Winther bath" which can be found here.
NB! The puzzle contains small pieces and should be kept out of reach for children under three years of age

Puzzle: 63 x 45 cm. Box: 19 x 26,5 x 6 cm.
This product is FSC®-certified. The FSC label is your guarantee that you can buy the paper product with a clear conscience. By choosing FSC-labelled products you are helping to protect our forests and the people and animals that live in them.
Shipping
SHIPPING & PRICES
When your order is shipped, we will e-mail you the tracking number of the package. We always process your order as quickly as possible.
Notice! Longer delivery times can appear during campaigns and busy periods.
Delivery in EU
Estimated delivery time: 2-5 weekdays
Purchase below €110: From €3
Purchase above €110: Free delivery
The Rest of the World
Estimated delivery time: 2-5 weekdays
Delivery in the Rest of the World €14
In case of customs bills in countries outside the EU, the recipient is responsible for the payment
For prices in Denmark, click here.
For prices in Norway, click here.