GÅ TILBAGE TIL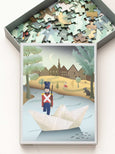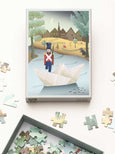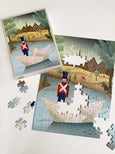 THE STEADFAST TIN SOLDIER - JIGSAW PUZZLE - 100 pieces
Hans Christian Andersen's wonderful imagination created iconic stories that are known all over the world. A one-legged tin soldier is unable to take his eyes off the beautiful paper ballerina – as she dances, one leg is lifted so high behind her that she seems to have only one leg, just like the tin soldier. As fate willed it, the tin soldier has to undertake a perilous journey down the gutter in a boat made out of a newspaper. He stands steadfastly on his one leg throughout the ordeal and eventually ends up back in the very room he came from! The dancer's beauty almost makes him shed a tin tear, and he ends his life in the stove where the heat of the flames make him melt – or was it his love for the dancer that melted him?
There, that's a true story!

'The Steadfast Tin Soldier' is also available as a poster. See it here. 
The jigsaw puzzle has 100 pieces and is suitable for young school-age children.
NB! The puzzle contains small pieces and should be kept out of reach for children under three years of age
Box dimensions: 26 x 19 x 5,5 cm. Puzzle dimension: 30 x 42 cm

This product is FSC®-certified. The FSC label is your guarantee that you can buy the paper product with a clear conscience. By choosing FSC-labelled products you are helping to protect our forests and the people and animals that live in them.
Shipping
SHIPPING & PRICES
When your order is shipped, we will e-mail you the tracking number of the package. We always process your order as quickly as possible.
Notice! Longer delivery times can appear during campaigns and busy periods.
Delivery in EU
Estimated delivery time: 2-5 weekdays
Purchase below €110: From €3
Purchase above €110: Free delivery
The Rest of the World
Estimated delivery time: 2-5 weekdays
Delivery in the Rest of the World €14
In case of customs bills in countries outside the EU, the recipient is responsible for the payment
For prices in Denmark, click here.
For prices in Norway, click here.