GÅ TILBAGE TIL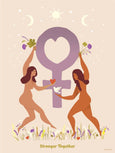 STRONGER TOGETHER - fund-raising poster
Our bond with each other is woven of loyalty, strength and compassion. Together we can handle anything because we understand each other. We share experiences, feelings and thoughts. We feel that even though we have different homes, backgrounds, and everyday lives. Sister, we are stronger together.
STRONGER TOGETHER is a fund-raising poster for LittleBigHelp, who, among other things, works for improving living conditions for women and girls in slum areas in India.
When you buy the poster, 25% of the amount is donated to LittleBigHelp. 

If you buy a 30x40 cm poster, LittleBigHelp can for example give:
- 6 days of education to a woman in one of their job training educations.
- School preparation for a whole day for 10 girls from the slum
- 4 months of computer education for a young girl from a primitive village
If you buy a 50x70 cm poster, LittleBigHelp can for example give:
- 1 month of therapy for a girl, who previously lived in the streets
- Health checks for 17 girls from the slum
- 10 weeks of raw materials for a woman on one of their job training educations (e.g., tape measure, fabric, or something similar)
You can read more about LittleBigHelp and our cooperation here.
Our posters are printed in Denmark on Swedish eco-friendly paper, 170 g Arctic Silk. 
This product is FSC®-certified. The FSC label is your guarantee that you can buy the paper product with a clear conscience. By choosing FSC-labelled products you are helping to protect our forests and the people and animals that live in them.
Shipping
SHIPPING & PRICES
When your order is shipped, we will e-mail you the tracking number of the package. We always process your order as quickly as possible. 
Notice! Longer delivery times can appear during campaigns and busy periods.
Delivery in EU
Estimated delivery time: 2-5 weekdays
Purchase below €110: From €3
Purchase above €110: Free delivery
The Rest of the World
Estimated delivery time: 2-5 weekdays
Delivery in the Rest of the World €14
In case of customs bills in countries outside the EU, the recipient is responsible for the payment
For prices in Denmark, click here.
For prices in Norway, click here.