GÅ TILBAGE TIL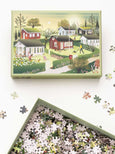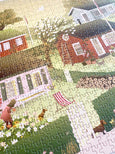 SMALL HOUSES - JIGSAW PUZZLE - 1.000 pieces
You can almost feel the sun hit the tip of your nose and smell the freshly mown grass. The small houses are lined up to welcome us during the warm months of the year.
The jigsaw puzzle is inspired by our popular poster Denmark Allotments.
Use the puzzle to create an offline oasis with room for quality time, reflection and a focus on the present moment, whether on your own or as a joint project with family and friends. Maybe in your allotment or at your summer cottage?
NB! The jigsaw puzzle includes small pieces, so it should be kept away from children under the age of three years.
Jigsaw puzzle dimensions: 63 x 45 cm. Box: 19 x 26.5 x 6 cm
This product is FSC®-certified. The FSC label is your guarantee that you can buy the paper product with a clear conscience. By choosing FSC-labelled products you are helping to protect our forests and the people and animals that live in them.
Shipping
SHIPPING & PRICES
When your order is shipped, we will e-mail you the tracking number of the package. We always process your order as quickly as possible.
Notice! Longer delivery times can appear during campaigns and busy periods.
Delivery in EU
Estimated delivery time: 2-5 weekdays
Purchase below €110: From €3
Purchase above €110: Free delivery
The Rest of the World
Estimated delivery time: 2-5 weekdays
Delivery in the Rest of the World €14
In case of customs bills in countries outside the EU, the recipient is responsible for the payment
For prices in Denmark, click here.
For prices in Norway, click here.