GÅ TILBAGE TIL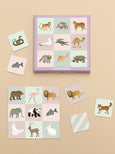 ANIMAL BINGO
This picture bingo with animals contains 6 different bingo boards and 54 different picture tiles. The boards and tiles have pictures of animals from all over the world. The game includes a small folder where you can see the names of all the animals.
How to play picture bingo:
- Each player chooses a game board, and a caller is appointed.
- The caller draws a tile and describes the image on it.
- The player who has the matching image on their board calls out 'Hey', gets the tile and places it on their board.
- The winner is the first player who gets a full board.
- You decide what the prize should be: a lollipop, an ice lolly, a run or perhaps the privilege of cleaning the dishes! The only limit is your imagination.
NB! The game includes small pieces, so it should be kept away from children under the age of three years.
Tiles dimensions: 4,5 cm x 4,5 cm. Boards dimensions: 14 cm x 14 cm. Bix dimensions: 15 x 15 x 3,5 cm.
This product is FSC®-certified. The FSC label is your guarantee that you can buy the paper product with a clear conscience. By choosing FSC-labelled products you are helping to protect our forests and the people and animals that live in them.
Shipping
SHIPPING & PRICES
When your order is shipped, we will e-mail you the tracking number of the package. We always process your order as quickly as possible.
Notice! Longer delivery times can appear during campaigns and busy periods.
Delivery in EU
Estimated delivery time: 2-5 weekdays
Purchase below €110: From €3
Purchase above €110: Free delivery
The Rest of the World
Estimated delivery time: 2-5 weekdays
Delivery in the Rest of the World €14
In case of customs bills in countries outside the EU, the recipient is responsible for the payment
For prices in Denmark, click here.
For prices in Norway, click here.