GÅ TILBAGE TIL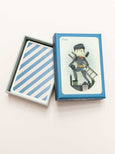 CHIMNEY PETE
Classic Chimney Pete game from ViSSEVASSE with simple graphic illustrations of a charming cast of characters. All the pairs have different occupations (like zoo keeper or gardener), and every character has a name.
How to play Chimney Pete:
- The goal is to get rid of all your cards.
- First, distribute all the cards among the players. The players now sort their cards into pairs. If someone has a matched pair, they show it to the other players and place it on the table.
- The player to the left of the dealer now draws a card from the dealer's hand. If the card matches up with one of the player's other cards to make a pair, the player shows the pair to the others and places it on the table. If it does not match up, the player simply keeps the card.
- Now, it is the next player's turn to draw a card from the player on their right.
- The game continues until there is only one card left. The player who holds this card – Chimney Pete – has lost.
The cards are finished with a hardwearing and dirt-repellent surface coating. The deck comes in a beautiful and practical box for safekeeping. 
Contains 15 card pairs + 1 Chimney Pete card. Card dimentions: 63 x 88 mm. Box dimensions: 7,5 x 10,5 x 3,5 cm.
This product is FSC®-certified. The FSC label is your guarantee that you can buy the paper product with a clear conscience. By choosing FSC-labelled products you are helping to protect our forests and the people and animals that live in them.
Shipping
SHIPPING & PRICES
When your order is shipped, we will e-mail you the tracking number of the package. We always process your order as quickly as possible.
Notice! Longer delivery times can appear during campaigns and busy periods.
Delivery in EU
Estimated delivery time: 2-5 weekdays
Purchase below €110: From €3
Purchase above €110: Free delivery
The Rest of the World
Estimated delivery time: 2-5 weekdays
Delivery in the Rest of the World €14
In case of customs bills in countries outside the EU, the recipient is responsible for the payment
For prices in Denmark, click here.
For prices in Norway, click here.