GÅ TILBAGE TIL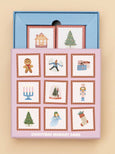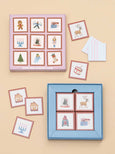 CHRISTMAS MEMORY GAME
Everyone knows the classic memory game, which can be played by kids and adults of all ages. Our Christmas memory game has the same rules, but it will get you in a Christmas mood at the same time. All the illustrations on the pieces are inspired by classic Christmas icons. You will for example find a Christmas tree, Christmas gifts and Rudolph.
Idea: Use the memory game as an Advent gift.
The game contains 28 pairs (56 pieces) and can be played by 2–6 players aged 3–99 years.
How to play:
Mix up the tiles and arrange them face down on a hard surface.
Players take turns to flip two tiles.
If they are a match, the player gets to keep the two tiles and flip over two additional tiles.
If this pair is not a match, the tiles are turned face down again, and the next player has a go. The winner is the player holding the most tiles at the end.

Have fun and Merry Christmas! 
Box dimensions: 15 x 15 x 3,5 cm. Tiles dimension: 5 x 5 cm
This product is FSC®-certified. The FSC label is your guarantee that you can buy the paper product with a clear conscience. By choosing FSC-labelled products you are helping to protect our forests and the people and animals that live in them.
Shipping
SHIPPING & PRICES
When your order is shipped, we will e-mail you the tracking number of the package. We always process your order as quickly as possible.
Notice! Longer delivery times can appear during campaigns and busy periods.
Delivery in EU
Estimated delivery time: 2-5 weekdays
Purchase below €110: From €3
Purchase above €110: Free delivery
The Rest of the World
Estimated delivery time: 2-5 weekdays
Delivery in the Rest of the World €14
In case of customs bills in countries outside the EU, the recipient is responsible for the payment
For prices in Denmark, click here.
For prices in Norway, click here.