GÅ TILBAGE TIL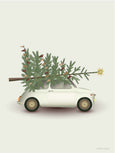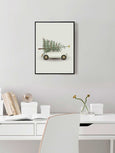 CHRISTMAS TREE & LITTLE CAR - poster
Year after year, the same tradition. Everybody into the car, and off we go. Choosing and cutting the perfect Christmas tree. Should we pick that tall silver fir or that chubby little one with a crooked top and loads of charm? You'll know the right one when you see it.
TIP: If you have multiple posters on a wall, it looks really cute if you replace all the posters with Christmas posters in December.

Get the CHRISTMAS TREE & LITTLE CAR greeting card here >>>
The CHRISTMAS TREE & LITTLE CAR poster is printed in Denmark on Swedish eco-friendly paper 170gr. MultiArt Matt. The A5 card is 350 gr. Silkmat. 
ViSSEVASSE takes pride in protecting the environment and is honoured to be FSC®-certified (SCS-COC-005763-BS). Read more about FSC on our sustainability site.
Shipping
SHIPPING & PRICES
When your order is shipped, we will e-mail you the tracking number of the package. We always process your order as quickly as possible. 
Notice! Longer delivery times can appear during campaigns and busy periods.
Delivery in EU
Estimated delivery time: 2-5 weekdays
Purchase below €110: From €3
Purchase above €110: Free delivery
The Rest of the World
Estimated delivery time: 2-5 weekdays
Delivery in the Rest of the World €14
In case of customs bills in countries outside the EU, the recipient is responsible for the payment
For prices in Denmark, click here.
For prices in Norway, click here.