GÅ TILBAGE TIL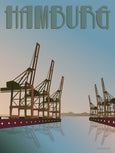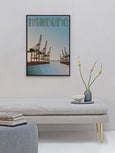 HAMBURG cranes - poster
Giant container ships and towering cranes. The Port of Hamburg is a spectacular sight with impressive dimensions and silhouettes that look like something from another world. The high pace and constant activity have an immediate impact on anyone visiting the port. Cranes hard at work. Shipping containers being loaded and unloaded. Miniature lorries driven by miniature people – or at least, so it seems, when seen from a distance. Because the port is huge; in fact it is one of the biggest in the world.
The Hamburg Cranes poster is printed in Denmark on Swedish eco-friendly paper, 170 g Arctic Silk. A5 cards are printed on 350g Profisilk with a matt water-based lacquer.
ViSSEVASSE takes pride in protecting the environment and is honoured to be FSC®-certified (SCS-COC-005763-BS). Read more about FSC on our sustainability site.

Shipping
SHIPPING & PRICES
When your order is shipped, we will e-mail you the tracking number of the package. We always process your order as quickly as possible. 
Notice! Longer delivery times can appear during campaigns and busy periods.
Delivery in EU
Estimated delivery time: 2-5 weekdays
Purchase below €110: From €3
Purchase above €110: Free delivery
The Rest of the World
Estimated delivery time: 2-5 weekdays
Delivery in the Rest of the World €14
In case of customs bills in countries outside the EU, the recipient is responsible for the payment
For prices in Denmark, click here.
For prices in Norway, click here.