GÅ TILBAGE TIL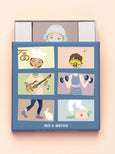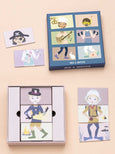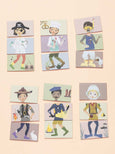 MIX & MATCH
A baker, a zookeeper or a diver. You can be anything you want to be! Use your imagination to build your own personal dream by combining the 12 characters as you like.            
The game contains 12 characters (36 tiles) and it can be played by 2-4 players aged 3-99 years. You can also mix and match for fun (and create the funniest characters) without following the rules of the game.

How to play:
Mix up the tiles and arrange them in a pile face down.
Players take turn to pick up a tile and place the tile face up in front of them. Continue until you have a funny character with top, middle and bottom. If you pick up a tile with a body part you already have, you can choose which one you want to keep. Any tiles you choose to discard are added to another pile, face up. Following, the players can choose to pick from the main pile or the discard pile. If a player gets a correctly matched character it should be moved to the side.
The winner is the first player to get 3 correctly matched characters.
Box dimensions: 15 x 15 x 3,5 cm. Tiles dimension: 8 x 4,5 cm
This product is FSC®-certified. The FSC label is your guarantee that you can buy the paper product with a clear conscience. By choosing FSC-labelled products you are helping to protect our forests and the people and animals that live in them.
Shipping
SHIPPING & PRICES
When your order is shipped, we will e-mail you the tracking number of the package. We always process your order as quickly as possible.
Notice! Longer delivery times can appear during campaigns and busy periods.
Delivery in EU
Estimated delivery time: 2-5 weekdays
Purchase below €110: From €3
Purchase above €110: Free delivery
The Rest of the World
Estimated delivery time: 2-5 weekdays
Delivery in the Rest of the World €14
In case of customs bills in countries outside the EU, the recipient is responsible for the payment
For prices in Denmark, click here.
For prices in Norway, click here.