GÅ TILBAGE TIL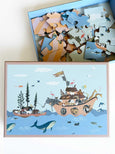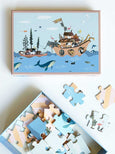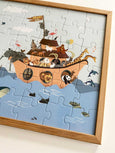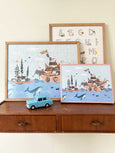 NOAHS ARK - JIGSAW PUZZLE - 42 pieces
All animals, both large and small, must go on Noah's ark. 2 ladybugs, 2 elephants, 2 flamingos. Together you will go on a great adventure and live on the boat until you find land. On the ark, you are all good friends and do fun things together. Maybe you can play a game or play catch?
You can also find a poster with the same illustration here.
When the puzzle is laid out, it can be placed in one of our non-reflective 30x40 cm frames here which fit the dimensions of the puzzle perfectly. It looks super nice on the wall in the kids' room.
This jigsaw puzzle for children has 42 pieces and is suited for children over 4 years of age.
This product is FSC®-certified. The FSC label is your guarantee that you can buy the paper product with a clear conscience. By choosing FSC-labelled products you are helping to protect our forests and the people and animals that live in them.
Shipping
SHIPPING & PRICES
When your order is shipped, we will e-mail you the tracking number of the package. We always process your order as quickly as possible.
Notice! Longer delivery times can appear during campaigns and busy periods.
Delivery in EU
Estimated delivery time: 2-5 weekdays
Purchase below €110: From €3
Purchase above €110: Free delivery
The Rest of the World
Estimated delivery time: 2-5 weekdays
Delivery in the Rest of the World €14
In case of customs bills in countries outside the EU, the recipient is responsible for the payment
For prices in Denmark, click here.
For prices in Norway, click here.