GÅ TILBAGE TIL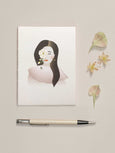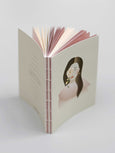 NOTEBOOK - ON MY MIND - Small
Close your eyes, feel how your body relaxes, and let your mind take your on a holiday. Perhaps the little symbolic key in the earring can open the door to something beautiful – if you dare to use it.
Give your thoughts a home in this notebook and preserve your personal history. The notebook unfolds easily and has a decorative seam running down the back. The pages form four layers alternating between off-white and dusty rose, giving the book a decorative look when seen from the side. You can use the notebook for any purpose you like, perhaps using the colour variation to create different sections.
When you open the book you find a page where you can add your name, address and telephone number, if you like.
The notebook is 10.5x14,2 cm. It has 144 pages made of 100-gramme Cream wood-free paper and a front and back cover in 350-gramme white kraft paper.
This product is FSC®-certified. The FSC label is your guarantee that you can buy the paper product with a clear conscience. By choosing FSC-labelled products you are helping to protect our forests and the people and animals that live in them.
Shipping
SHIPPING & PRICES
When your order is shipped, we will e-mail you the tracking number of the package. We always process your order as quickly as possible.
Notice! Longer delivery times can appear during campaigns and busy periods.
Delivery in EU
Estimated delivery time: 2-5 weekdays
Purchase below €110: From €3
Purchase above €110: Free delivery
The Rest of the World
Estimated delivery time: 2-5 weekdays
Delivery in the Rest of the World €14
In case of customs bills in countries outside the EU, the recipient is responsible for the payment
For prices in Denmark, click here.
For prices in Norway, click here.