GÅ TILBAGE TIL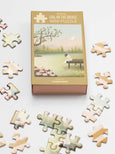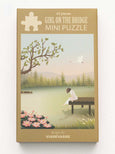 GIRL ON THE BRIDGE - mini puzzle
Everything is quiet, but you can sense nature all around you. The sprouting flowers, the fish in the water, the golden rays of the sun. In this moment you are in a perfect symbiosis with nature and you feel complete. Your reflection in the water reveals that you have a smile from ear to ear.
This mini puzzle comes in a neat little box that is easy to bring along to a meeting or on the train if you need a time-out to unwind and focus your attention on a creative pursuit. A jigsaw puzzle is the perfect offline activity.
Use it as a birthday present, on a vacation or in lieu of flowers as a present for the hostess. Jigsaw puzzles are for people of all ages, alone or with others.
NB! The puzzle contains tiny pieces, so it should be kept out of reach of children under three years of age.
The puzzle has 42 pieces and measures 13 x 10 cm. The box measures 11 x 6,5 x 2 cm
This product is FSC®-certified. The FSC label is your guarantee that you can buy the paper product with a clear conscience. By choosing FSC-labelled products you are helping to protect our forests and the people and animals that live in them
Shipping
SHIPPING & PRICES
When your order is shipped, we will e-mail you the tracking number of the package. We always process your order as quickly as possible.
Notice! Longer delivery times can appear during campaigns and busy periods.
Delivery in EU
Estimated delivery time: 2-5 weekdays
Purchase below €110: From €3
Purchase above €110: Free delivery
The Rest of the World
Estimated delivery time: 2-5 weekdays
Delivery in the Rest of the World €14
In case of customs bills in countries outside the EU, the recipient is responsible for the payment
For prices in Denmark, click here.
For prices in Norway, click here.