GÅ TILBAGE TIL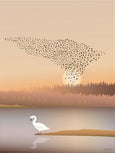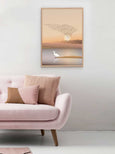 MURMURATION - poster
Starlings dance in the twilight, gathering in intricate formations on the sky. In Denmark, the phenomenon is known as 'Black Sun', and it attracts large crowds every year. People gather to see thousands of birds paint the sky black. A breathtaking experience. 
ViSSEVASSE takes pride in protecting the environment and is honoured to be FSC®-certified (SCS-COC-005763-BS). Read more about FSC on our sustainability site.
Shipping
SHIPPING & PRICES
When your order is shipped, we will e-mail you the tracking number of the package. We always process your order as quickly as possible. 
Notice! Longer delivery times can appear during campaigns and busy periods.
Delivery in EU
Estimated delivery time: 2-5 weekdays
Purchase below €110: From €3
Purchase above €110: Free delivery
The Rest of the World
Estimated delivery time: 2-5 weekdays
Delivery in the Rest of the World €14
In case of customs bills in countries outside the EU, the recipient is responsible for the payment
For prices in Denmark, click here.
For prices in Norway, click here.